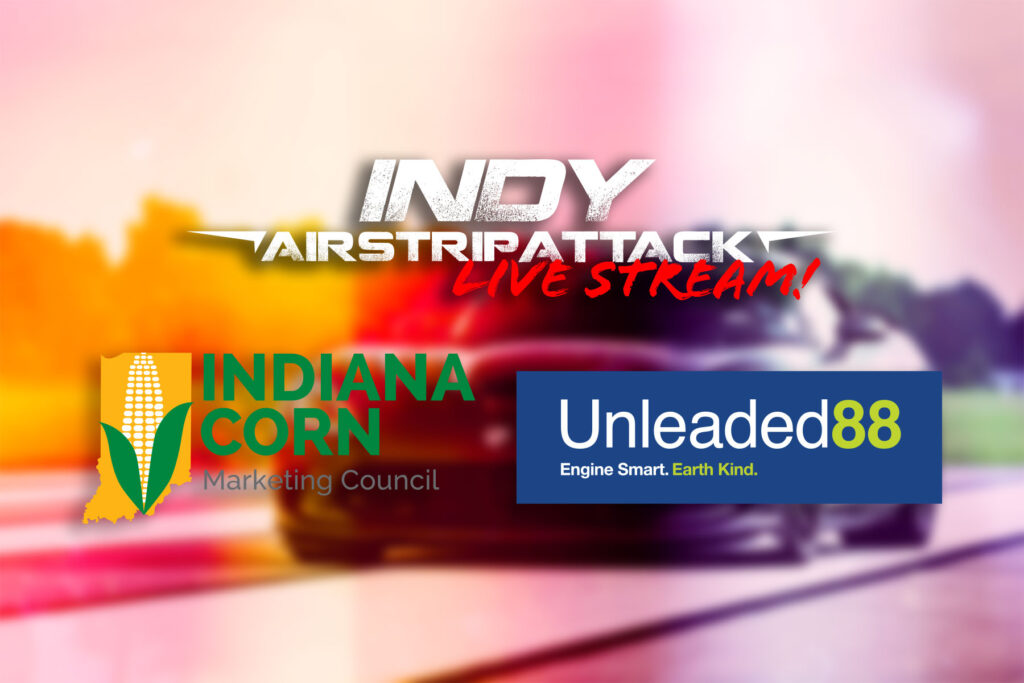 We're proud to announce Indiana Corn Marketing Council and Unleaded88 as the title sponsors for the 2020 Indy Airstrip Attack! It's times like these that make us appreciate all those that support our events, and it's not just the event they're supporting, but Indiana Corn Marketing Council and Unleaded88 are also bringing you the very first Indy Airstrip Attack LIVE! Stream for FREE for everybody can tune into the event!
Airstrip Attack Live! is back and next weekend we'll be coming at you Live! from the Indy Airstrip Attack with the world's fastest modified street cars racing on a closed down airport runway reaching speeds over 200mph! Can't make it out to spectate? Next Saturday and Sunday watch live from the comfort of your home while we bring you all the races and world record attempts all weekend. Broadcast stream starts at 9am each day. Be sure to bookmark airstripattack.co/live for quick access on race day. HUGE thanks to our sponsors Indiana Corn Marketing Council and Unleaded88 for making it happen!
As they say, "and now, a word from our sponsors!"
What is Unleaded 88? Unleaded 88 is a blend of 15% ethanol and 85% gasoline that burns cleaner and has higher octane that's better for your engine, environment, and wallet.  American drivers have already logged more than 14 billion miles on it. Not only is Unleaded 88 cleaner, but it's the high octane, lower-cost fuel choice for virtually every vehicle on the road today. It helps engines run more efficiently. Find a location near you at Unl88.com
Why does Indiana Corn Marketing Council and corn farmers across the country support Unleaded 88? Over 45% of Indiana's corn crop goes to produce ethanol that is blended into fuels like Unleaded 88 and Flex Fuel E85. Ethanol in the U.S. and Indiana has become a main driver of economic growth supporting, directly or indirectly, corn farmers and businesses within their supply chain. Our objective is to make sure this important market for corn remains viable and healthy. https://www.incorn.org/icmc/programs/ethanol
These guys will be making a huge presence at the event, so be sure to swing by their booth and ask them anything and everything ethanol!